Landslip-hit Chiltern Line 'should open by Easter'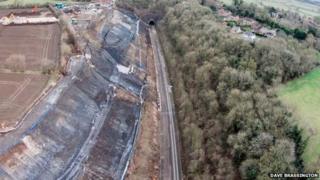 A major rail route closed by a 350,000-tonne landslip should reopen in time for Easter, Network Rail has said.
The section of the Chiltern Mainline between Leamington Spa and Banbury was closed on 31 January after the landslip near the Harbury Tunnel.
Network Rail said about 100,000 tonnes of earth had been removed so far and the landslip was being monitored while repairs took place.
Freight and passenger services should resume by 2 April, the firm said.
Chief executive Mark Carne said the cutting, between Leamington Spa and Banbury, has suffered from landslips since it was built in the 1840s.
The company would look at new engineering solutions, which might be available to reduce the risk of similar incidents in future, he said.
About 130 passenger trains use the line each day, with major operators including Chiltern Railways and CrossCountry.
Replacement buses have been operating between Leamington Spa and Banbury adding an extra 90 minutes to passenger journeys.
Chiltern passengers can use existing tickets on Virgin services or other reasonable routes, Network Rail said.
Commuter Andy Walker, a senior communications officer for the FA, travels from Solihull to Wembley Stadium daily and said the disruption has been "very inconvenient".
He said: "It adds an extra hour and half to my day either side because of using the bus transfer from Banbury to Leamington.
"Alternatively I can use the Virgin service which gets me into London at the same time but you have to negotiate the centre of London at peak time which, as most people know, isn't ideal."
Network Rail said it had been carrying out stabilisation work at the site and this was under way at the time of January's landslip.
A smaller landslip happened at the same place in 2014.