Public-private partnership for Birmingham mental health services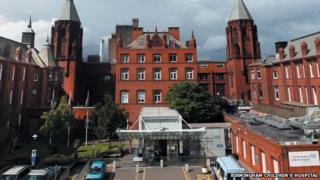 A consortium led by Birmingham Children's Hospital has been given a £124m contract to provide mental health services for young people in the city.
A 24 hour help line will be set up and patients will be given a named individual responsible for their care.
The Forward Thinking Birmingham group will run the service for the next five years.
It includes NHS and private healthcare providers and the charity The Children's Society.
Sarah-Jane Marsh, from Birmingham Children's Hospital, said: "For too long [young people] have had to navigate a complicated mental health system where many slip through the net, unable to access the care they need at a crucial time of their lives."
Forward Thinking Birmingham
Will offer help to young people up to the age of 25
Free advice through a 24-hour help line and online
A drop-in clinic in Birmingham city centre
"Recovery Colleges" in educational settings to help patients continue their studies
Support for young people at home wherever possible to avoid the need for hospital admission
21 additional beds for treatment in hospital
The other partners include the Priory Group, who operate 70 centres offering help with mental health issues and addiction, and Beacon UK, a private company co-ordinating services and support for people with mental health problems.