Name-row horse Brian fails police trial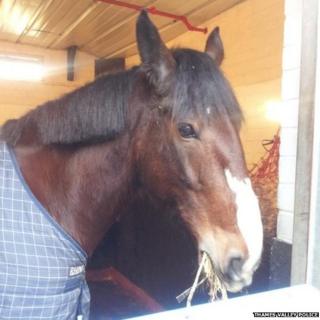 A horse named Brian, whose proposed name change sparked "public outrage", has failed a trial to join the police.
Thames Valley Police had said Brian would be given a more "godlike name" if he qualified for its mounted section, but reconsidered in the face of a wave of pro-Brian sentiment.
However, Brian has failed to make the grade and the six-year-old cross breed will now be returned to his owners.
Police said he "didn't settle to an urban environment and was nervous".
Sgt Spencer Kervin said he was brought up in a rural environment and "is nervous when he is out and about".
"You can see the change in him when he walks out the gates of the police station, which endangers him, the officer on board and the public around his feet," the officer said.
Brian will now be returned to The Stables Equestrian Centre in Bedfordshire.
He had been considered for a name change more in keeping with police tradition, such as Hercules or Odin.
'Bright side of life'
But when it emerged police were considering dropping Brian's birth name, there was a groundswell of support to keep it from men called Brian.
Brian Belo, the winner of Big Brother series eight, told the BBC on Friday: "I think it's a marvellous name for a horse, it's a friendly name, you would want to be kept safe by a Brian."
Brian Poulson, from Bracknell in Berkshire, said he was "appalled".
"There is no way they should be changing the name - every horse should be called Brian."
Thames Valley Police tweeted the news and said: "Despite his fame, Brian's not made it through his trial and returns to his owner today.
"Always look on the bright side of..."
---
Other horses' names changed by Thames Valley Police
Sonic became Pagan
Red became Trojan
Mary became Luna
Source: Thames Valley Police
---