Gurkhas prepare for Canadian island challenge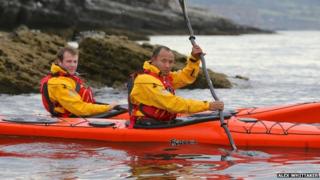 Two Gurkhas are preparing for a 1,500 mile endurance challenge in the Arctic.
Capt Jon Armstrong, 28, from Redhill, Surrey, and Cpl Arjun Limbu, 34, from Taplajung in Nepal, aim to travel round Ellesmere Island off the north Canadian coast in May.
The two Gurkhas based in Shorncliffe in Kent are looking to break the record of 104 days for the circumnavigation.
They will be skiing, climbing and kayaking around the coastline in sub-zero temperatures.
Capt Armstrong said: "We will be facing some serious conditions out there, but we have trained hard and are well prepared for what we will face.
"The biggest challenges will be to remain alert, motivated and well-nourished over the 100 or so days as we will be using up calories at a higher rate than the human body can absorb."
The soldiers from 2 Royal Gurkha Rifles are looking to break the record for the fastest unpowered circumnavigation.
Expedition Arctic Gurkha is due to start on 1 May and finish on 31 August.
The trip will see the pair facing the dangers of polar bears, ice floes, strong headwinds and fast moving icebergs that could crush their kayaks.
Cpl Limbu said: "My forebears have fought in countless wars including both world wars and the Falklands, and I myself have been in Afghanistan and Iraq, so while the Arctic is challenging, it is something we can prepare for and face with complete determination.
"This year is the 200th anniversary of Gurkhas serving Britain, and working alongside a British officer on a challenge of this scale is symbolic of the close relationship that we Gurkhas have had with the British Army over that time."
Ellesmere Island circumnavigation
Ellesmere is the both the most northerly and coldest inhabited place on earth
The island has a population of about 150 people
Two Americans are the only people to successfully undertake the journey (in 2011)
Temperatures on Ellesmere Island range from -20 to +10 degrees Celsius (-4F to 50F)
The two Gurkhas will consume 6,000 calories a day
The kayaks weigh up to 100kg (220lbs) fully loaded
The Gurkhas' preparations have included rough water kayak training off the coast of Anglesey in North Wales, arctic survival training in Norway and Nordic skiing in the French Alps.
The pair are using the challenge to highlight the work of the Gurkha Welfare Trust and are aiming to raise £30,000 for a clean water and sanitation project in Corp Limbu's home village in Nepal.