New Heathrow runway permission 'cannot be bought'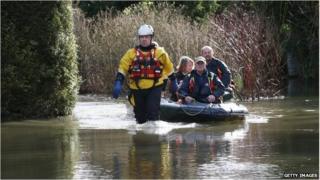 Heathrow Airport bosses will not be able to "buy" planning permission for a proposed runway expansion, the foreign secretary has said.
Philip Hammond made the comments after the airport said it could contribute to a £300m flood relief scheme if it was allowed to expand.
Mr Hammond said Heathrow should join other local businesses in helping to fund new River Thames defences.
The airport said expansion would allow environmental issues to be addressed.
'Affected by disruption'
Homes and businesses in Berkshire, Surrey and the London boroughs of Kingston and Richmond were affected by last February's floods.
Conservative MP for Runnymede and Weybridge Mr Hammond said Heathrow would directly benefit from the river defence scheme.
"We've got a long tradition in this county that we don't allow people to buy planning permission for controversial schemes simply by offering money," he said.
"As a very large local business that was negatively affected by the disruption in the area last February I would expect Heathrow and businesses around Heathrow to be among those we ask for a contribution."
The River Thames defence scheme involves reducing the flood risk between Datchet and Teddington by building a flood channel and improving three weirs.
Another £50m needs to be raised for the scheme, expected to be completed by 2025, and Heathrow is one of the organisations being asked to contribute.
Airport expansion
The Airports Commission is currently considering three options for expanding airport provision in south-east England.
A third runway at Heathrow
Lengthening an existing runway at Heathrow
A second runway at Gatwick
It is due to make its final recommendation to the government in the summer.
The airport previously said its £16bn expansion plan would provide "once-in a-generation opportunities" to address flooding from tributary rivers.
A spokeswoman said Heathrow had invested over £200m in surface water management over the last 11 years.
"The plan will provide once-in a-generation opportunities to address economic, social and environmental issues facing local communities, including funding to reduce off-airport flooding, to enhance and to connect green spaces around the airport, and mitigate against the effects of noise," she said.
Chertsey in Surrey, among the areas worst affected by last year's floods, is expected to benefit from a separate scheme to improve the Abbey River, a backwater of the Thames.
The Environment Agency is replacing two sluices with a weir and a "fish ladder" to allow fish to move upstream and improve the flow of the river.