Farm owner Clifford Yeatman fined over Matthew Pitt toxic gas death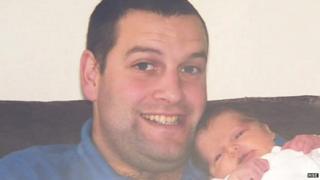 The owner of a farm where a worker died after being overcome by toxic hydrogen sulphide gas has been fined for serious safety failings.
Matthew Pitt, 29, died during maintenance of an anaerobic digestion (AD) plant at Lowbrook Farm near Blandford Forum in Dorset in June 2009.
The Health and Safety Executive (HSE) found a number of unsafe practices.
Clifford Yeatman was ordered to pay a total of £145,000 after admitting breaches of the Health and Safety Act.
The HSE said Mr Pitt and a colleague David Bartlett both lost consciousness after opening the roof of the digester tank to free a stirring mechanism.
Mr Bartlett came round and raised the alarm but Mr Pitt was later declared dead without having regained consciousness.
Two paramedics and two other farm workers also suffered from the effects of the fumes.
An HSE investigation found workers were not trained to remove the roof of the AD plant.
It also found an incident the previous year, when another worker fell unconscious while working on a roof seal, had not been reported to the agency.
'Worked hard'
HSE Inspector Annette Walker said the risks of exposure to hydrogen sulphide were "well-known".
"What has happened at that farm demonstrates the importance of having safe systems of work in place, particularly for maintenance and repair work where the risk of exposure is likely to be highest."
Mr Pitt's mother Janet described her son as her "best buddy".
"We were a close-knit farming family that did everything together. We lived, worked hard and played together. All that has ended and although we carry on with our lives, behind the strong exterior lies broken hearts that will never be mended," she said.
Yeatman, 63, was fined £15,000 as a director of Biogas Nord UK at the hearing at Dorchester Crown Court on Monday. Associated companies CO and RA Yeatman - of which he is a partner - and his own firm Farmergy Ltd, were fined a total of £55,000.
Yeatman and Farmergy Ltd were ordered to share £75,000 in costs.