East Midlands Crossroads blames legislation for wage failure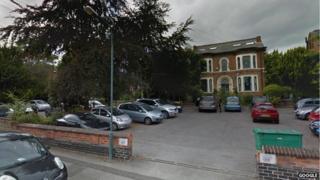 A charity that topped a list of employers failing to pay staff the minimum wage has blamed "complex" and "ambiguous" legislation.
The government released a list of 70 firms and the amounts they failed to pay staff. At the top was East Midlands Crossroads in Nottingham.
The charity, which helps carers in the region, said it had paid back more than £37,000 it owed to 184 staff.
The government said the care sector was a "particular problem".
'Open to interpretation'
A spokeswoman for the firm said it had been "unaware" it had neglected to pay staff a total of £37,592.56.
"The legislation is complex, in parts ambiguous, and open to interpretation," she said.
Care workers were not paid for travel time between appointments, she explained, but were paid travel expenses and enhanced rates for evenings, weekends and bank holidays, which are not included in the calculation for the National Minimum Wage (NMW).
The amounts underpaid to individual workers at the charity ranged from 17p to £1,500 over a three-year period and all the money was paid back in September 2014.
The company was fined £4,500 for the error, it said.
---
'I'm emotionally burnt out'
Nottingham care worker Sarah, 26, works on a zero-hour contract with no sick pay or travel time and is paid less than £5.50 an hour in an average week.
She said: "I want this to be my career but I've run through my savings, sold my car and feel emotionally burnt out.
"I'm constantly told I'm overqualified for this job and in a couple of months I will resign. Hopefully I'll find work as a self-employed carer."
Sarah became a carer after her mother was diagnosed with multiple sclerosis.
"I love being a live-in carer because it puts my clients in control of their lives," she said.
"They consider me a valued professional - unfortunately I don't feel the same about my employers."
---
A total of 162 firms have been named and shamed by the Department for Business, Skills and Innovation after a new regime came into force in 2013. Seventy were released earlier.
Around 100 cases in the care sector are being investigated, which the government calls the "tip of the iceberg".
Business Secretary Jo Swinson said: "We're working hard in areas where we know there are particular problems, like the care sector, to make sure staff are paid fairly for the hard work they do."
East Midlands Crossroads employs 350 people and is part of Crossroads Care, a national network of local charities employing over 5,000 staff nationwide.
It works with authorities across the East Midlands, including Derby and Nottingham city councils and Leicestershire county council.