Bath and Swindon hospitals put on black alert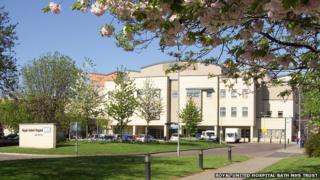 Two hospitals in Somerset and one in Wiltshire are operating under 'black alert' status due to increased levels of demand on their services.
A spokesman said Yeovil District Hospital, which declared the status on Monday, was still under pressure and remained on the highest alert.
The Royal United Hospital in Bath declared the same status earlier.
Swindon's Great Western Hospital has also been placed on black alert and has cancelled some operations.
A spokesman for Yeovil District Hospital said: "Whilst we have experienced a slight reduction in the number of people attending our emergency department and have been able to discharge some patients, we are still under significant pressure with no spare capacity within our wards.
"Our hospital therefore remains on black alert."
What is a black alert?
•The NHS uses a national internal alert system based on the colours green, amber, red and black to rank how busy a local health and social care system is
•Black alert status occurs when a hospital cannot cope with the number of people coming into the accident and emergency department because not enough people are being discharged
•It effectively means the hospital does not have enough bed capacity to cope
A spokesman for the Royal United Hospital said it was on black alert "in line with current demand, and staff are doing an excellent job".
Great Western Hospitals NHS Foundation Trust said some planned operations had been cancelled and apologised for any inconvenience caused to patients.
Taunton's Musgrove Park Hospital said it was on the lesser 'red alert' and has been for "the past few weeks".
It said its red alert status was "likely to continue" while the demand for its services remained high.