Clarke Carlisle launches mental health charity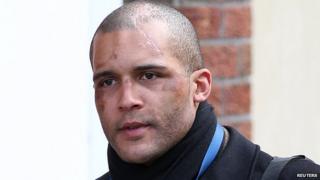 Former footballer Clarke Carlisle, who recently revealed he had attempted suicide, has launched a mental health charity.
His wife Gemma announced the creation of the Clarke Carlisle Foundation for Dual Diagnosis in a tweet on Wednesday.
The ex-chair of the Professional Footballers' Association spent six weeks in a psychiatric unit after he was hit by a lorry in December.
Mrs Carlisle said the charity aimed to "raise awareness of dual diagnosis".
The Centre for Mental Health describes the condition as "mental health problems co-occurring with drug or alcohol misuse".
Carlisle left hospital on 30 January, six weeks after he was struck by the lorry in North Yorkshire on the A64 Leeds to York Road.
Preston-born Carlisle, who started his career with Blackpool, helped Burnley win promotion to the Premier League in 2009 and also played for QPR, Preston and Northampton in his 16-year career.
Samaritans can be contacted by phone on 08457 909090, via email or you can find the details for your local branch here.
Click here for information on mental health issues from BBC's Action Line.