Harbury Tunnel landslip 'not caused by tree removal'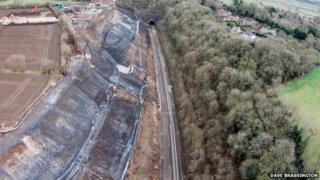 Network Rail has denied the removal of trees from a Warwickshire railway cutting may have contributed to a 350,000-tonne landslip.
A section of the Chiltern Mainline closed on 31 January after the landslip near the Harbury Tunnel.
Environmental campaigner and Guardian journalist George Monbiot has described tree work by Network Rail in 2010 as a "spectacular act of folly".
But the company said the work would not have had an impact.
'Erosion and slumping'
In the comment piece on Wednesday, Monbiot said: "Trees on steep slopes often prevent landslides by binding the soil with their roots, anchoring it to the bedrock and reducing the amount of water it contains."
He added: "If you are going to take the drastic step of deforestation, you had better be damn sure that you're making the right decision. And if you scrape or plough a steep slope vertically, you should also be sure that you are not accelerating soil erosion and slumping."
But Network Rail said there was "no truth in claims that the landslip at Harbury was caused by a lack of vegetation on the cutting's slopes".
"The vegetation on the slope was destroyed during a previous landslip in 2007 and the depth of the recent failure in the cutting - which caused the landslip on 31 January - was far greater than any tree root would have been able to reach," it said.
"We continue to repair the damage and have removed more than 200,000 tonnes of material so far."
The line has been closed between Leamington Spa and Banbury. About 130 passenger trains use the line each day, with major operators including Chiltern Railways and CrossCountry.
Network Rail said the line would reopen by 2 April. A smaller landslip happened at the same place in 2014.