Recruitment consultant sentenced for falsifying doctors' CVs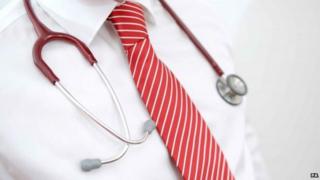 A recruitment consultant who changed eight doctors' CVs to secure them jobs has been given a suspended sentence.
Ross Etherson admitted 21 counts of making or supplying articles for use in fraud at Isleworth Crown Court.
The doctors were given locum jobs with United Lincolnshire and Western Sussex NHS Trusts.
Giving him a two-year sentence, suspended for a year, the judge said it was "purely down to luck" the health of patients had not been impacted.
Etherson, 34, of Balham, south London, had been drawn into a "culture of deceit" at Midas Medical Recruitment in Chiswick, where he worked from May 2009 until his arrest in April 2010.
Judge Robin Johnson said the company encouraged staff to embellish foreign doctors' CVs.
"While the counts on the indictment enabled the agency to claim £37,000 in fees, the seriousness of this fraud is that doctors were being placed where their experience was less than claimed on their CVs," he told the court.
Doctors, who qualified abroad, were being paid as little as £15 an hour while the agency charged up to £120 an hour for the doctors' services, he said.
"The man that is in the dock is at the lowest end of responsibility for this criminal conduct," he said.
"No-one else has, to my knowledge, even been arrested, let alone tried for this shameful practice."
The company is still trading under a different name.
The scam was discovered when a clinical services manager at Lincoln County Hospital and Grantham District Hospital reported concerns about some locum doctors' CVs and references to the NHS Counter-Fraud Service.
While some managers carried out proper checks before appointing doctors, others employed medics with false CVs and references from "imaginary consultants", the judge said.
"It is fortunate that there is no occasion where such lack of experience on behalf of one of these doctors impacted on the health of a patient. But that was purely down to luck."
NHS Protect, which investigates allegations of fraud within the NHS, said Etherson dealt with trusts, including United Lincolnshire Hospitals, one of the largest in the country, Isle of Wight, Western Sussex and Sherwood Forest.
David Hall, anti-fraud lead for NHS Protect, said: "He abused a position of trust for his personal gain, seeming not to care about the potential consequences for patients of receiving treatment from medical staff whose experience did not meet the requirements of their job."
Seven locum doctors were employed by United Lincolnshire Hospital NHS Trust and Western Sussex Hospital NHS Foundation Trust on the basis of Etherson's misleading documents.
The doctors were unaware of the scam. Some were supervised, given reduced responsibilities or released from their contracts after the fraud was discovered.