NHS in West Sussex likely to keep musculoskeletal services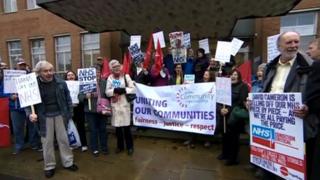 Services dealing with bone, muscle and joint problems in West Sussex are likely to remain within the NHS, according to health bosses.
Private consortium Bupa CSH pulled out of a £235m contract last month.
Coastal West Sussex Clinical Commissioning Group (CCG) said it was no longer looking for a new provider for musculoskeletal services (MSK).
It said it would talk with the current provider, Western Sussex Hospitals NHS Trust, as its preferred approach.
However, it said it would "keep all options open" with an aim to introduce the service as quickly as possible.
Current contracts have been extended until the end of September.
'Shows naivety'
Bupa CSH - a partnership between Bupa and Central Surrey Healthcare - was due to have begun its service on 1 January with the promise of offering "a more joined-up health system for patients" with better outcomes and a reduction in bureaucracy.
Critics had accused the CCG of wasting £340,000 on the procurement process.
Campaigners had also opposed the award of the contract calling it NHS privatisation "by smashing down the front door with a sledgehammer".
The Don't Cut It Out campaign group said supporters had campaigned, protested, lobbied and signed petitions in their thousands to oppose the deal.
"My preference has always been for it to remain an NHS service," said Dr James Walsh, a former GP and vice-chairman of West Sussex County Council's health select committee.
"The whole process has shown a naivety from the CCG because they went into this thinking they could save money and get a better service by going outside the NHS," he said.
"It was a waste [to spend] a third of a million pounds using consultants and bureaucrats when that money should have been used to treat patients."
Dr Katie Armstrong, the CCG's clinical chief officer said the whole process was intended to improve services for patients.
"We started this because patients and clinicians told us that current services weren't working," she said.
"It was never our intention to destabilise hospital services.
"We have learnt lessons but we still have that commitment to improve services and are thinking about how we can get that to happen as soon as possible."