War images stop MPs in their tracks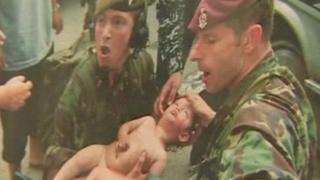 Normally MPs hurry along the Westminster corridor where select committee meetings are held, but this week they've been stopped in their tracks by an exhibition created by veterans based at the Colchester garrison.
Hanging on walls, resembling a military dugout, are pencil drawings of soldiers fighting or lying injured.
There is a photograph of a naked and crying baby in the arms of two members of the parachute regiment and standing next to it a pair of scorched camouflaged trousers - the person who had been wearing them caught in an explosion in Helmand.
Around the corner is a prosthetic leg and above it, a chilling photograph taken on a mobile phone of the original leg shortly after it had been blown off.
In a display cabinet, a series of drawings - one shows a tear-stained face and has the caption " feeling like your (sic) always trying to escape but you don't know from what."
'Raw emotions'
They are powerful, complex and at times anguished images by nine Colchester soldiers who've been injured on the front line.
"There are some very raw emotions on display here," said Jevan Watkins Jones, the artist who led the project.
"They are images which for the soldiers are important. Drawing and displaying them helps them come to terms with their injuries, whether they're physical or mental."
It has been a unique project: the soldiers were brought together by the Firstsite arts organisation.
It asked Mr Watkins Jones to go into the Chavasse Personnel Recovery Centre in Colchester to work with war veterans from Kosovo, Iraq and Afghanistan.
He gave them each a note book and asked them to draw, or to bring in objects or photographs which meant something to them - that prompted discussion and allowed the soldiers to tackle their demons.
Joss Green, a former Royal Anglian, has drawn several of the pictures. "It's hard when you've spent so long in a battalion abroad and then you come back to the UK," he said.
"You don't have many mates who live round the corner and so you're limited by the kind of people you can talk to about this sort of thing.
"Normally if you want to get something off your chest you talk to someone about it.
"If you haven't got anyone to talk to - why not draw it or write it down?"
For Colchester's MP, Sir Bob Russell, it's a very poignant exhibition.
"I think it shows us that here in the Mother of Parliaments, we cannot just isolate war and the casualties of war. We can't just say 'Well that's that, the war's over'," he said.
The project has been judged so successful there is talk of doing it again with soldiers in other parts of the country.
Those who've been injured will never forget what happened to them - the hope is through art it'll be a little easier for them to come to terms with what they've been through.