South Northamptonshire and Cherwell plan more service sharing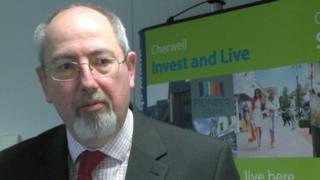 Two councils which have already joined forces have agreed to share more services to save a further £12m.
South Northamptonshire and Cherwell District councils merged their senior management teams in 2011 and their waste management services last year.
So far savings amount to £3.3m with 17 redundancies and five posts cut.
Cherwell council leader Barry Wood said of the latest plan: "We won't be making any rash or quick decisions regarding the future structure or staff numbers."
Mr Wood added the plan was still "in the very early stages of what will be a lengthy process" but that the councils would ensure "any compulsory redundancies" were "kept to a minimum".
He said the authorities had "already been taking precautions to protect permanent staff through recruitment freezes, fixed term contracts and temporary contracts".
It is also not yet clear which services will be merged.
Mary Clarke, leader of South Northamptonshire Council, said: "If all goes to plan, we expect that over a ten year period, joint working could generate additional savings of £4m for South Northamptonshire and a further £8m for Cherwell.
"This helps to protect the front-line services which matter most to our residents."