James Bond favourite Aston Martin DBS found in barn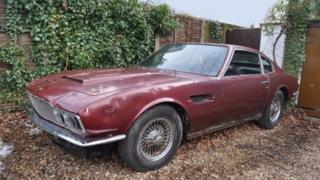 A rusty Aston Martin of the same model driven by James Bond may fetch up to £40,000 when it comes up at auction.
The DBS model, discovered in a Surrey barn, was the last of its kind to come off the production line and auctioneer COYS said it had excited collectors.
The DBS model, a favourite of James Bond, was made between 1967 and 1972.
The Dubonnet Rosso-colour example was built in September 1972 and has the chassis number of the last ever DBS to roll off the production line.
It was purchased by an Aston Martin enthusiast in 1975 from a dealer in Thames Ditton and been in the same family ever since.
'Former glory'
The car will be displayed at Aston Martin Mayfair's showroom in London's Park Lane before the COYS auction on 10 March.
COYS managing partner Chris Routledge, said: "This is an important part of Aston Martin's history.
"It has been sitting in a barn since 1980 and now needs to be brought back to its former glory.
"The windows are broken, the interior trim is missing and its rusty, but it's all there.
"We have estimated the car at £25,000 to £40,000 in its present condition but because of its heritage it could go for an awful lot more than that."