Visit Cornwall tourism body set to be replaced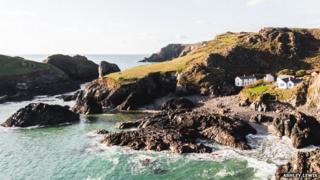 Plans to replace the council-run tourism body in Cornwall with a community company have been revealed.
Visit Cornwall has been responsible for promoting tourism worth an estimated £1.6bn annually to the county.
But, Cornwall Council is withdrawing the £850,000 budget for the organisation and its 13 staff have been given redundancy notices.
The current chief executive of Visit Cornwall said the plans were "challenging but achievable".
A report prepared for the council's cabinet states a new community interest company (CIC) could be formed to replace the organisation by 1 April.
'Pragmatic solution'
The report states: "The Visit Cornwall CIC would operate by streamlining activity and generating additional income from partnership, sponsorship, membership fees and advertising income.
"It would operate as a private sector trade organisation, currently representing over 950 promotion partners but with the intention to grow this number."
It is understood the CIC would be made up of people working in tourism and associated businesses.
Malcolm Bell, chief executive of Visit Cornwall, said: "This is a pragmatic solution because we know public spending is going to get tighter.
"It will be challenging but achievable."
Mr Bell said a CIC would need some permanent paid staff but the number of people required was yet to be decided.
Visit Cornwall has always obtained between 30 and 40% of its income, from contributions by tourism businesses on a voluntary basis.
The council approved a plan in November 2014 to save £196m between 2015-2019.
Cabinet members will be asked to approve £300,000 to cover "transitional" costs at a meeting on Wednesday.