Kent man speaks out on Liverpool boys' home abuse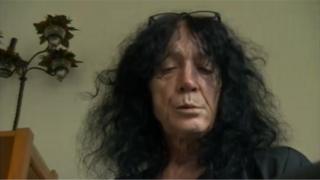 A man abused at a boys' home in the 1960s has spoken for the first time about his ordeal to encourage other victims to break their silence.
Daniel Kane, 58, of Sissinghurst, Kent, wants to give evidence at the national inquiry into historic sexual abuse.
He told BBC Radio Kent that he still found it hard to deal with what had happened to him as an 11-year-old boy.
"The man who raped me only did it once, but abused me sexually and physically five or six times," he said.
Mr Kane, who has waived his right to anonymity, said he was now being treated for post-traumatic stress.
He grew up in Merseyside and was raised by his grandmother and father after his mother left home when he was five years old.
After getting into trouble with the police six years later, he was sent to a boys' remand home in Menlove Avenue, Liverpool.
'Too late for me'
"I'd never left home before, and wet the bed in the mornings," he recalled.
"When the officers found this they would drag you out, wrap you in your wet bedclothes, drag you down three flights of stairs to the bathrooms, and dunk you with your sheets in a huge Victorian bath."
Mr Kane said it was at this point that he was sexually abused.
His abuser has since died.
"When I left I didn't think about Menlove Avenue again - I erased it. I didn't think about it or talk about it," he said.
"Then a few years ago when the inquiry about Wales came out I looked on the internet thinking, 'I wonder if anyone ever complained about that place I was in,' and it all came up."
Mr Kane said almost 50 years later he still had not dealt with the abuse, but had to talk about it "because if you don't face your demons you live with them".
He was diagnosed with cancer last year, and said he thought: "What if I died and never, ever spoke about it, and never, ever said?
"I'd not only be letting down myself but all those other victims out there."
He is hoping that the national inquiry, headed by Justice Lowell Goddard, will bring about changes, and said it was vital that evidence was heard in public.
"If this inquiry is about listening to people like me saying 'I was abused' and they're just going to nod their heads, no, I'm not interested," he said.
"It's too late for me. What about now, and the future?"