The songs used as street names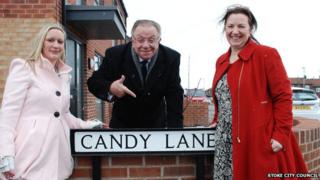 Streets in Stoke-on-Trent have been named after songs released by pop star and hometown hero Robbie Williams. While it is nothing new to name a street after a famous person or place, roads named after song titles are far less common. Here are a few members of the select canon.
The Robbie Effect
People in Middleport, Stoke-on-Trent, will be forever reminded of Robbie Williams as their addresses are synonymous with his chart-topping hits.
Angels Way, Candy Lane and Supreme Street were earlier named after the songs in a move the city council termed "a fitting tribute" to the singer's success.
It was the culmination of a string of celebrations to mark the former Take That star's 40th birthday, which also included granting the boy band breakout star Freedom of the City last year.
Though he did not attend the unveiling, he described honouring his roots as a "wonderful legacy".
Start Me Up
Dartford's most famous sons - The Rolling Stones - have a number of streets named after songs they penned.
The town where Mick Jagger and Keith Richards grew up now sports Sympathy Vale, Angie Mews and Silver Train Gardens, to name but a few, with Ruby Tuesday Drive and Stones Avenue still to be finished.
The Rolling Stones theme was suggested by the estate's developer in 2008 and two councillors came up with the road names.
A fans' anthem
For years Manchester City fans have shown their support by holding their scarves aloft and belting out the mournful words of the classic song, Blue Moon.
According to the club's website, supporters adopted the well-known tune as their own at the opening game of the 1989-90 season at Liverpool.
The street where City's Maine Road stadium used to be was given a new lease of life as Blue Moon Way in 2012, in tribute to the club's former Moss Side home.
The name was picked by youngsters from a nearby primary school.