Crimewatch Telford rape hunt appeal brings new leads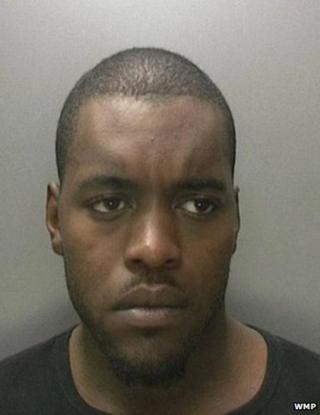 A BBC Crimewatch appeal to find a man wanted in connection with a rape in Shropshire has uncovered "some leads and information", police have said.
Roumel Haylette, 24, is sought over a rape that happened in Wellington, Telford, on 17 August last year.
Det Insp Mel Paley said the severity of the case and the difficulty in finding Mr Haylette had led to the TV appeal, which was "quite unusual".
The suspect is believed to have stolen jewellery worth £2,000 from the victim.
Det Insp Paley said it was important he was found as soon as possible.
"Haylette is thought to be a dangerous individual and I would urge you not to approach him," she said.
The officer added he had a gold topped tooth so looked "distinctive". The suspect is black, about 5ft 6ins and muscular, police said.
He also has a tattoo on his chest which says "fearless". At the time of the incident he was thought to have had a small goatee beard.
Haylette is believed to have links to the Handsworth area of Birmingham.
The appeal was featured on BBC One's Crimewatch programme on Monday evening.
Anyone with information was urged to call West Mercia Police on 101.