Hospital crisis hit 900 operations in West of England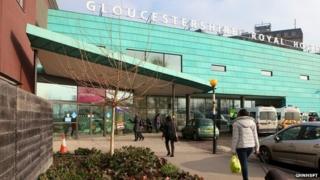 More than 900 patients in the West of England had surgery cancelled for non-medical reasons at the start of 2015.
Nearly half of those - 436 - were due to be seen at Gloucestershire's two main hospitals during a fortnight of intense pressure on the NHS.
"Major incidents" were declared at a number of UK hospitals as medical staff struggled to cope with patient numbers.
The Great Western Hospital in Swindon had the next highest total with 141 elective operations cancelled.
Gloucestershire Hospitals NHS Trust - which released its figures following a Freedom of Information request - said the pressure was due to high demand on its services, an increase in frail and elderly patients and a shortage of beds.
A statement from the trust said that operations called off on the day - a "national standard" for measuring cancellations - brought the number down to 43.
The figure of 436 includes operations cancelled before and on the day for "non-medical" reasons. The trust said the data was "complex" and "should be considered in that context."
The biggest impact for the trust was on 5 January when 37% of elective surgery was cancelled at Gloucestershire Royal Hospital and 17% at Cheltenham General Hospital.
Across the first 14 days of this year, 219 operations were cancelled out of 1,279 in Gloucester, and 217 out of 1,600 in Cheltenham.
---
Cancelled surgery - 1-14 January 2015
Gloucestershire NHS Trust = 436 cancelled procedures
Great Western Hospital, Swindon = 141 cancelled procedures
University Hospitals Bristol = 139 cancelled procedures
Royal United Hospital, Bath = 72 cancelled procedures
Southmead Hospital, Bristol = 68 cancelled procedures
Salisbury District Hospital = 28 cancelled procedures
Musgrove Park Hospital, Taunton = 15 cancelled procedures
Weston General Hospital = 2 cancelled procedures
---
Labour councillor David Drew, who sits on Gloucestershire's health scrutiny committee, said an investigation had been carried out and there was "some satisfaction" the different parts of the NHS in Gloucestershire were now speaking to each other.
"But there is a long way to go before we can say that the underlying difficulties have gone away," he added.
Ricky Newton, from Up Hatherley in Cheltenham, had his surgery was cancelled on the day it was scheduled.
The 55-year-old said turning up to hospital and then being turned away was "very upsetting", particularly after several previous delays.
---
'Major incident' definition for local NHS organisations
"Any occurrence that presents serious threat to the health of the community, disruption to the service or causes (or is likely to cause) such numbers or types of casualties as to require special arrangements to be implemented by hospitals, ambulance trusts or other acute or community provider organisations."
Source: NHS England Commissioning Board
---
In Swindon, "increased demand and growing pressure" on services at Great Western Hospital was blamed for the cancellation of non-urgent operations, for which the hospital has since apologised.
"Patient safety and quality of care is our absolute priority and therefore on occasions when we are extremely busy we do have to make difficult decisions and prioritise patients needing urgent care, such as cancer patients," a spokesman said.
In Bristol and South Gloucestershire, the clinical commissioning groups said they understood "the significant impact" cancellations can have on patients' lives.