Chester Zoo: Rare eastern black rhinoceros baby dies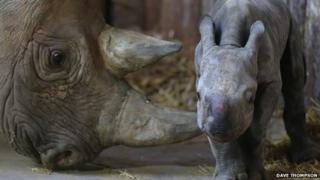 A baby rhinoceros has died at Chester Zoo, little more than a month after her dramatic birth was captured on film.
Born on 31 January, Fara was an eastern black rhino. There are only about 650 of the endangered species in the wild.
She was taken ill on Tuesday but could not be saved by the veterinary staff who attended to her, the zoo said.
A spokeswoman said it was "too early" to establish the cause of death, adding that a post-mortem examination was being carried out.
'Quiet time'
Fara's birth was caught on film as her 17-year-old mother Kitani spun around during the delivery.
She was the fourth calf born at Chester Zoo in the past three years.
The zoo started its black rhino breeding programme in 1999 with the Save the Rhino charity also providing support to animals in Kenya and Tanzania.
Nick Davis, assistant curator of mammals, said: "To date we have had a very successful breeding programme so Fara's death will be felt deeply by all those who cared for her every day. It is a truly sad time for us all."
The rhino house has been closed today to give Kitani some quiet time, a spokeswoman said.
---
Black rhinos
They are classed as a critically endangered species
The average height of a black rhino is 5ft 2in (1.6m)
They weigh 1,760-3,080lbs (798-1,397kg)
The animals live in tropical and subtropical grasslands, savannas and deserts
Black rhinos are native to Africa and are found in countries including Namibia
Source: WWF