Surrey and Berkshire Magna Carta bearers join pageant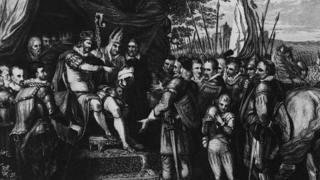 Up to 33 local people are being sought to act as "charter bearers" when a replica of Magna Carta is carried down the Thames to mark its 800th year.
Charter bearers must be from Runnymede or Spelthorne boroughs in Surrey, or Windsor and Maidenhead in Berkshire, Runnymede council said.
Historian Nick Pollard said all three boroughs played a part in the events.
He said the barons camped at Staines and the king was at Windsor before both parties struck the deal in Runnymede.
But Mr Pollard, chairman of Spelthorne Archaeology and Local History Group, said that although much happened locally, the actual spot where Magna Carta was sealed in 1215 would never be known.
"All we can say is what it says in the charter itself," he said.
"It was given under [the king's] hand in the meadow called Runnymede between Staines and Windsor, so that's as close as we know."
A river pageant - Magna Carta 800th The River Relay - has been planned to celebrate the anniversary.
A copy of Magna Carta will be transported downstream, with actors telling its story.
Charter bearers who will carry the document will be on board the Royal Shallop Jubilant.
The Queen's Diamond Jubilee barge, Gloriana, will be the flagship, and will join a flotilla of about 200 boats on the two-day voyage from Hurley to Runnymede on 13 and 14 June.
Charter bearers must be aged 16 or over and live, work or study in one of the three boroughs, and be nominated by a community organisation such as faith groups, charities, schools and societies.