Electric arc 'probably caused' Eurotunnel lorry fire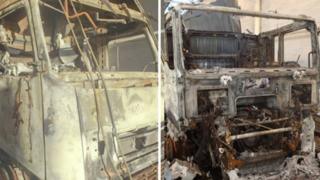 An electric arc between an overhead power line and a Eurotunnel shuttle train probably caused a fire that shut the tunnel, investigators have said.
The fire, which destroyed two lorries, took hold on 17 January at 12:00 GMT.
The fire led to the closure of the 31-mile (50 km) tunnel, affecting 12,000 passengers and hundreds of hauliers.
The Rail Accident Investigation Branch (RAIB) said the electric arc took place as the train was entering the UK side of the tunnel.
An initial report states: "It is probable that this initial arcing event led to the subsequent fire on the trucks."
The RAIB is working with Bureau d'Enquetes sur les Accidents de Transport Terrestre (BEA-TT), to jointly investigate the fire on the train.
Investigators said the initial electrical arc caused the power supply to trip, however, electricity was reinstated after 26 seconds.
'Arcing event'
Twenty minutes later the control centre received a fire alarm warning as the train approached France. This was confirmed by the train driver.
Shortly after the warning the power supply tripped for a second time.
Investigators said the driver brought the train to a controlled stop allowing 38 passengers and three members of staff to escape to a service tunnel.
Firefighters arrived and took about four hours to extinguish the fire and several more hours to cool the shuttle.
The RAIB said Eurotunnel was now reviewing the procedures that are applied following an "arcing event" near the entrance of the tunnel.