UK Coal miners will still get free fuel allowance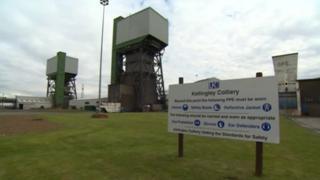 Miners employed by UK Coal will still get their free fuel allowance when two pits close later this year.
The 1,300 miners who work for UK Coal at Kellingley and Thoresby collieries faced losing the concessionary fuel grant given to miners and their families.
Miners can choose free coal worth up to £1300 or up to £600 cash per year.
Energy Minister Matthew Hancock said the government would ensure UK Coal workers got the allowance.
According to the National Union of Mineworkers (NUM), about 69,000 former miners or their families receive the allowance under the terms of the National Concessionary Fuel Scheme.
It was set up in the 1980s and was carried over in 1994 when the coal industry was privatised.
'Uncertain time'
UK Coal plans to close the pits at Kellingley, North Yorkshire, and Thoresby, Nottinghamshire by the end of the year.
The company applied to the government for a loan to carry out a "managed closure" of the mines.
In a statement, Mr Hancock said: "We have been working constantly for over a year to secure the future of UK coal.
"The government is working closely with UK Coal during what we know is an uncertain time for the company and its workers.
"We will make sure that UK Coal's miners receive their concessionary fuel entitlements and we will continue to work with UKC to help them deliver a managed closure of the mines."
In 2013, the Chancellor George Osborne announced similar fuel allowance support for UK Coal miners affected by the closure of other pits.
Chris Kitchen, general secretary of the NUM, said: "It is good news that the minister has made the decision as it removes the uncertainty for the workers."