Thames Valley Police Commissioner wants more GPS tagging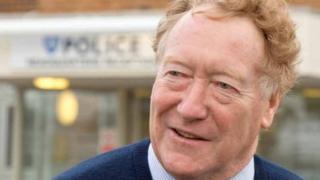 The Thames Valley Police and Crime Commissioner wants to see more criminals who are out on licence tagged with GPS trackers.
Anthony Stansfeld said criminals monitored using the global positioning system would "stop a lot of them re-offending".
Probation officer Bob Turney, a former prisoner from Reading, said it was a "brilliant" idea.
The College of Policing said overall tagging had "no impact on crime".
'Setting people up to fail'
Currently about 12 ex-offenders voluntarily wear a GPS tag in the Thames Valley as a deterrent to re-offending.
Mr Stansfeld said if more were tagged it would save officers time as they could monitor them via a computer rather than "endlessly keeping an eye on people who've come out of prison".
He could not give a cost but said it would come out of the Thames Valley Police budget and that it was "up to the Ministry of Justice to negotiate a contract".
Mr Turney said GPS tagging would "reduce crime, [because] people who are supervised know that I know where they are at any given moment".
A College of Policing report said "overall evidence" suggested electronic tagging had "no impact on crime" and that more research was needed into its effectiveness.
Andrew Neilson, director of campaigns at the Howard League for Penal Reform, said tagging "can play a part in rehabilitation" but that for most offenders it was setting them up to fail.
He said: "If you look at prolific burglars for example they are often feeding drug or alcohol addictions - that's why they're burglars.
"It would be better to invest in effective drugs and alcohol treatment rather than getting them to wear a tag."