Romney Marsh campaigners seek national park status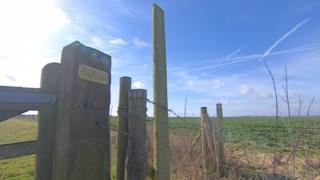 A campaign is under way to make Romney Marsh England's 11th national park.
Save Our Marsh Block Rural Exploitation (Sombre) is seeking local people's views on the idea, which it says would protect the area and increase tourism.
"We need to celebrate one of the finest landscapes of its type in the country, as well as protect and promote it," said spokeswoman Patricia Rolfe.
Former South Downs National Park campaigner Chris Todd said Sombre had a huge task ahead of it.
'Tourist magnet'
Romney Marsh covers about 100 square miles of Kent and East Sussex, bordered by the towns of Rye and Hythe.
Much of the marsh is below sea level with the Napoleonic Royal Military Canal running through it.
"It is a very special area and already a site of special scientific interest and at Dungeness has the largest shingle beach in Europe," said Ms Rolfe, who also organised opposition to wind farm expansion on Romney Marsh.
She said she was confident of support from residents.
"National parks are magnets for tourists both domestic and internationally," said Ms Rolfe.
"National park authorities have a statutory duty to conserve and enhance the natural beauty of an area, as well as the cultural heritage.
"Furthermore, they are duty bound to foster the social and economic wellbeing of the communities within the national park, which is fundamental in an area which in some ways is recognised as deprived."
The South Downs National Park, which stretches from Eastbourne in East Sussex to Winchester in Hampshire, was England's 10th and came into existence on 31 March 2010.
It was first recommended for the status after World War Two.
Mr Todd said a local campaign was started in 1990 to achieve national park status for the land, already designated an area of outstanding natural beauty.
"It was a very, very long timescale," he said.
"That doesn't mean it can't be done but that is a huge ask."