Wolfe Witham 'pioneer of Norfolk real ale' dies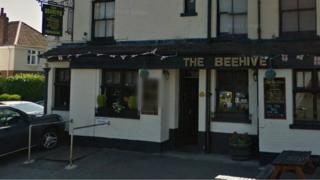 Tribute has been paid to a "pioneer of Norfolk's real ale revival".
Wolfe Witham, 65, born and educated in Portsmouth, Hampshire, set up one of the first real ale brew house pubs in Norfolk in 1985.
He died suddenly on 1 March while walking his dogs in Norwich.
Warren Wordsworth, from the Campaign for Real Ale (Camra), said large scale brewing was brought back to the county when national firms transferred beer making to large sites elsewhere.
Demand for Wolf Brewery beers grew so much, Mr Witham moved operations from a former cider plant in Attleborough, to a larger site outside the town.
Entertaining brewery talks
But his first venture into running a pub with its own brewery was at the Reindeer, on Dereham Road, Norwich, in 1985.
This became a very popular venue for real ale buffs who could see the beer-making process under way, through a large glass screen in one of the lounges.
Mr Wordsworth said: "I got to know Wolfe during several Norwich Beer Festivals.
"After he took early retirement from the Wolf Brewery (in 2007), I met him occasionally at the Beehive pub in Norwich, run by his partner's daughter.
"Many people will remember his entertaining and informative talks delivered during brewery visits.
"It is a very great sadness to see him die so young. He was a pioneer in Norfolk of real ale both as a publican and brewer."