700 homes on warning lists for West Midlands ambulances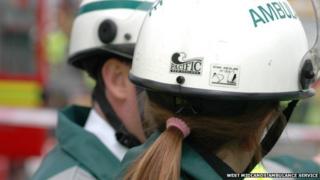 More than 700 homes in the West Midlands have been put on "caution" or "violence" warning lists by the region's ambulance service.
Crews are advised not to enter "a handful" of addresses without a police escort, a spokesman said.
Flagged locations include where paramedics or staff have been assaulted and houses with aggressive dogs.
Reasons can also include calls where patients have a medical condition which could make them emotionally volatile.
The ambulance service, which covers the West Midlands, Shropshire, Herefordshire and Worcestershire, said it had given more than 120 properties a "violence" flag and a further 580 homes a "caution" flag.
Steve Elliker, the security and safety manger for the service, said he was "very concerned" by threats to staff safety.
He said West Midlands Ambulance Service tried to prosecute over attacks where possible.
Crews can decide whether to go into flagged properties on a case by case basis.
Ray Salmon, from Unison, said the number of problem addresses was on the rise but that was perhaps because staff felt increasingly able to report abuse rather than an increase in incidents.
However, he said there was still under-reporting. "This is definitely the tip of the iceberg," he said.
"Many staff feel as though they'll just put up with pushing and shoving because they want to get the job done."
Highest postcodes for cautions (2013/14)
Highest postcodes for violence (2013/2014)
B14 (Birmingham, Kings Heath, Yardley Wood) 13 incidents
B44 (Birmingham, Perry Barr) 4 incidents
CV6 (Coventry, Longford, Radford) 12 incidents
CV2 (Coventry, Walsgrave, Wyken) 4 incidents
B23 (Birmingham, Erdington, Short Heath) 11 incidents
B27 (Birmingham, Acocks Green) 4 incidents
CV3 (Coventry, Binley, Whitley and Styvechale) 11 incidents
WV1 (Wolverhampton city centre) 3 incidents
B31 (Birmingham Northfield) 10 incidents
DY11 (Kidderminster, Wyre Forest) 3 incidents
ST3 (Stoke-on-Trent, Longton, Meir, Blurton) 9 incidents
ST6 (Stoke-on-Trent, Tunstall, Burslem) 3 incidents
HR1 (Hereford city centre) 9 incidents
ST3 (Stoke-on-Trent, Longton, Meir, Blurton) 3 incidents
WV3 (Wolverhampton, Finchfield) 8 incidents
CV12 (Bedworth) 3 incidents
B27 (Birmingham, Acocks Green) 8 incidents
CV1 (Coventry city centre, Hillfields) 3 incidents
B13 (Birmingham, Moseley) 8 incidents