Swaylands School: Pupil 'lied over sex abuse claims'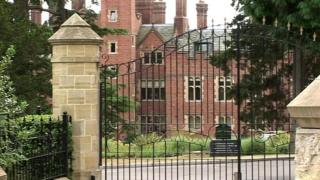 A former pupil who claimed he was sexually abused at a school for vulnerable children lied so he could claim compensation, a court was told.
Colwyn Baker, David Hennessy and Nigel Putman deny a total of 49 counts of abuse against 24 boys at the now-closed Swaylands School in Kent.
Maidstone Crown Court heard Mr Baker had abused the pupil at the Penshurst school from the age of 14.
The alleged victim, now 60, said he was telling the truth.
Mr Baker's defence lawyers said the pupil's accounts had varied "hugely" during a series of police interviews because he was lying.
He said that was not the case.
Mr Baker's defence council accused him of making more serious allegations after talking to other former pupils on social media.
The man, who cannot be named, replied: "I'm not making them any worse than they were."
Earlier, in her opening statement to the court, defence barrister Sarah Elliott QC told the court compensation may play a part in the case.
'Bribed with sweets'
She listed seven occasions when the former pupil had claimed compensation against bus drivers, dentists and the police.
Ms Elliott told the court the former pupil's own psychiatrist had diagnosed him as a hypochondriac and having an attention-seeking disorder.
The man said he only wanted an apology from the school which was supposed to have looked after him and was not trying to get compensation.
Earlier the court was shown a video in which the former pupil wept as he said he was abused and forced to abuse a friend.
He said Mr Baker had started to abuse him when he was 14, telling him it was "all a game".
He said the boys were bribed with sweets to take part and then threatened if they told anyone about the abuse.
'In trouble for lying'
He said he was too scared to tell his mother when he went home.
"I used to cry every single night and she couldn't make out what I was crying about," he said.
He told the court he had told the head teacher, but was warned he would be in trouble for lying.
Swaylands School, which catered for boys with emotional and behavioural difficulties, closed in 1994.
Mr Baker, 71, of Craighouse Avenue, Morningside, Edinburgh, denies 24 indecent assault and three serious sexual assault charges.
Mr Hennessy, 74, of Westfields, Narborough, King's Lynn, Norfolk, denies 17 indecent assault charges, one of gross indecency with a child, and one serious sexual assault.
Mr Putman, 62, of Kings Road, Slough, Berkshire, denies three indecent assaults.
The case continues.