Kent children face 'unacceptable waits' after NHS error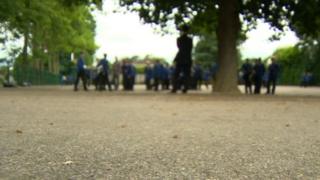 Health commissioners have apologised after a problem with an NHS contract left children with ADHD and autism in east Kent facing "unacceptable" waits.
Ashford Clinical Commissioning Group (CCG) said problems followed a "lack of clarity" in a contract drawn up by the now defunct Kent primary care trusts.
A private firm is being brought in to clear the waiting list which could take six months, it said.
Ashford MP Damian Green said action could have happened sooner.
He said he had been complaining to the CCG since October, when one child - who had been diagnosed four months earlier - was told there would be a year's wait for an appointment.
A CCG statement said it was working to overcome unacceptably long waiting times for children aged eight to 11 and added: "We apologise to families whose children are waiting."
It said: "The problem arose because of a lack of clarity in the contract with Sussex Partnership NHS Foundation Trust which was drawn up when the primary care trusts were responsible for commissioning child and adolescent mental health services in Kent."
Colm Donaghy, Sussex Partnership NHS chief executive, said his trust normally catered for those over 11, with children under 11 receiving hospital paediatric care.
"In south east Kent, we've realised children aged eight to 11 were not part of the contract with the hospital," he said.
He said his trust had agreed to hold a waiting list for the children so they could access services when a provider was in place.
Primary care trusts were replaced by clinical commissioning groups in 2013.