Barn-find James Bond favourite Aston Martin DBS sold at auction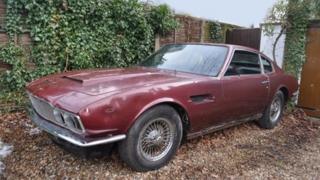 A rusty Aston Martin like a model which featured in a James Bond film has fetched more than £43,000 at auction.
The Dubonnet Rosso-colour DBS car, built in 1972, sat in a barn for more than 30 years and was the last of its kind to come off the production line.
It was sold by auctioneers in central London on Monday.
The model, manufactured between 1967 and 1972, featured in the 1969 film On Her Majesty's Secret Service starring Australian George Lazenby as 007.
A spokeswoman for the auctioneers said she could not reveal any details about the buyer but the vehicle had attracted "a lot of interest".
The classic car was originally purchased by an Aston Martin enthusiast in 1975 from a dealer in Thames Ditton, Surrey.