Sheffield's Children's Hospital named Tour de Yorkshire charity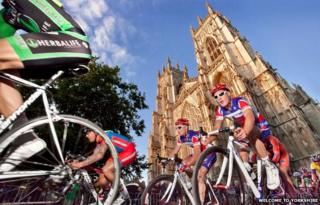 A children's hospital has said it hopes to raise more than £40,000 for a new wing after being named the charity partner of the Tour de Yorkshire.
Sheffield's Children's Hospital Charity needs to raise £10m towards the £40m project, which includes building new wards and buying specialist equipment.
It said the announcement had come at a "crucial" time in it's 'Make it Better' fundraising appeal.
The Tour de Yorkshire will take place between 1 and 3 May.
People are being encouraged to help raise funds by taking part in the charity's 'ROAR de Yorkshire' campaign.
Rebecca Staden, fundraising manager at the charity, said: "The Tour de Yorkshire is set to be a massive event for the county, and every penny raised through fundraising over the three days will help transform the lives of hundreds of thousands of poorly children."
Work on the £40m wing at the Western Bank site began in September. The remaining £30m will come from government and private sources.
Gary Verity, chief executive of Welcome to Yorkshire, said: "Families in Yorkshire are so lucky to have this wonderful hospital on our doorstep - so I am delighted to announce them as charity partners for the first ever Tour de Yorkshire."
The three-day event starts in Bridlington, East Yorkshire.
The riders will travel to Scarborough, Selby, Wakefield and York, before ending the final day at Roundhay Park in Leeds.