eBay-sourced Southport courtroom opens at Edge Hill University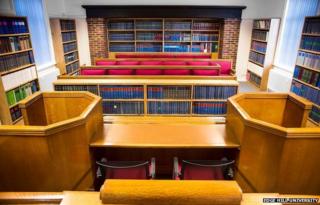 Law students in Lancashire are to hone their skills in a "real setting" after their university sourced the contents of a courtroom from an online auction.
Edge Hill University's new "mooting room", in which mock cases are debated, includes fittings from the former North Sefton Magistrates' Court in Southport.
The American oak furniture was bought in August after the university spotted it for sale on eBay.
Prof Francesco Rizzuto said it would give students a "great advantage".
"It provides us with the infrastructure to give students experience of doing things in a real place," he said.
The university bought the furniture from the owners for £3,000, after finding it listed for sale on the online auction site.
Along with the furniture from what was Court 2 in Southport, the room has also been furnished with more than 600 law books, donated to the university by a local law firm.
It will host moots, mock legal hearings where students act as counsel, deliver arguments and present their case before a judge, a role usually taken by a member of staff.
Prof Rizzuto, who is the head of the university's law department, said it would allow students the chance to "practice their advocacy skills and pleading before a judge or a bench" as well as giving a space where they can "challenge and be challenged".
He added that given the furniture's history, he would not be surprised if it had a few stories to tell.
"We'll probably leave a microphone in here overnight and see if the ghosts emerge," he said.
The magistrates' court on Albert Road was closed in 2011 following a government review and the building was sold to new owners in 2014.