Weybridge junior school fire investigation continues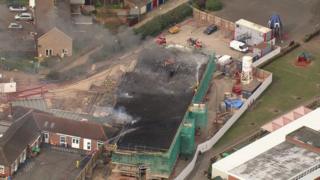 Investigations are continuing into the cause of a fire on a construction site at a junior school in Surrey.
St George's Junior School in Weybridge had to be evacuated at about 12:35 GMT on Friday after a cylinder is thought to have exploded. No-one was injured.
Huge clouds of black smoke could be seen billowing up into the sky at the height of the incident.
Forty firefighters, eight fire engines and a number of specialist vehicles were sent to the blaze.
The fire happened on the roof of a building under construction in a separate compound to the main school site.
Head teacher Antony Hudson said no school personnel or children were in the vicinity.
'Business as usual'
After the fire was extinguished, children and teachers were allowed back onto the premises and lessons continued as normal.
Mr Hudson said at an assembly soon afterwards for all the older children, the chief fire officer was able to explain that such fires were extremely rare.
He told the pupils "that he was very impressed by the manner in which they conducted themselves very safely".
He added that the school would be open on Monday "for business as usual".
Construction of the new school building for reception and years one and two pupils began last July.