South Harting daffodils tribute for Mothering Sunday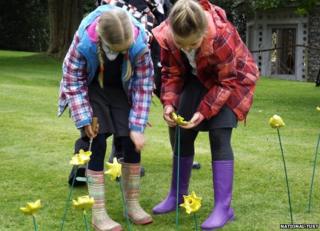 Schoolchildren have been inspired by last year's poppies at the Tower of London to install their own floral tribute to mothers in West Sussex.
In celebration of Mothering Sunday, 120 pupils from Harting Primary School in Petersfield, Hampshire, each made a 2ft (0.6m) tall ceramic daffodil.
They were then "planted" in clusters along the main drive of the National Trust's Uppark House in South Harting.
The floral sculptures will be on display for several weeks.
Head teacher Fiona Mullet said the yellow-glazed daffodils were made with clay, rolled out using templates to create the shape.
"The children then bent and pinched the petals, and made the daffodil centres from moulding rectangles of clay to form cylinders, which were stuck into wet clay to hold them in place," she added.
The daffodils will be sold in aid of Marie Curie Cancer Care.
Uppark's visitor experience officer, Louise Washington, said: "The bright yellow daffodils look really amazing and are a heart-lifting sight."