North Sea wind power 'may make East of England a trade hub'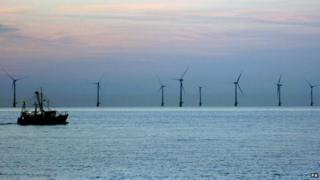 The East of England could become a hub for trade in renewable energy with Scandinavia if the proper regulation is put in place, says an industry group.
RenewableUK said it hoped a House of Lords report on the North Sea would help move forwards a framework to allow the import and export of wind energy.
Some of the biggest offshore wind farms are off the coast of Norfolk, Suffolk and Essex.
The committee found the North Sea was under pressure from human activity.
But it said urgently-needed strategic and political vision would "secure it for future generations" and help manage the economic opportunities.
'Regulatory barriers'
RenewableUK's Nick Medic, who gave evidence to the House of Lords committee drawing up the report on industrial and environmental pressures in the North Sea, said if rules were put in place to allow imports and exports between the UK and Iceland, Norway and Denmark the "East could become a hub for projects".
"I hope this report can help us understand how to work better in the North Sea context," he said.
"We are already seeing a lot of investment in the eastern region, such as in Lowestoft, we could easily see the doubling of what the UK provides in wind energy over the next five years."
Mr Medic told the committee the technology was in place to connect the UK to Norway and Iceland to trade energy but the regulations were not in place to allow it.
Energy minister and West Suffolk MP Matthew Hancock told the report work was being undertaken to "overcome the regulatory barriers" preventing the linking up of countries to a common grid.
The House of Lords European Union committee said the North Sea was the "lifeblood of more than 60 million people" who lived on or near its shores and contributed around 150bn euros (£107bn) to the economies of surrounding countries.
Baroness Scott, chairman of the committee, said a "co-ordinated and strategic approach" to the North Sea was vital.