Henley boat owner fined for reckless conduct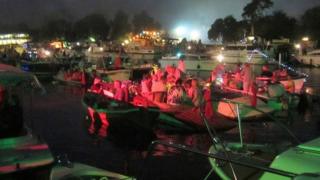 A man who woke other boaters during a festival on the Thames after recklessly driving his boat - named Attention Seeker - has been fined.
Malcolm Howell, 29, of no fixed abode, admitted failing to navigate his boat at a safe speed and with due care and caution at Henley Festival last year.
He caused other boats to rock violently which broke cabin contents on the floor, woke occupants and ripped boats from their moorings.
He was ordered to pay £4,567 in total.
Oxford Magistrates' Court heard that Howell's friend swam out to the boat which was moored in the middle of the Thames after the water taxi service at Henley Festival in the early hours of 13 July had stopped.
They boarded the Attention Seeker and Howell set off at high speed, crashed in to the boom the boat had been moored to, then travelled downstream in the dark without the boat's navigation lights on.
Nick McKie-Smith, waterways operations manager for the Environment Agency which brought the prosecution, said rules prevented people travelling faster than 5mph (8kmph) on the river.
Howell was fined £400, and ordered to pay costs of £3,515, compensation of £612 and a victim surcharge of £40.