Jeremy Forrest case: Abducted girl 'offered chance to meet' ex-teacher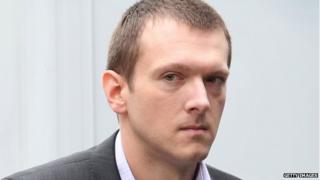 A schoolgirl who was groomed and abducted by her maths teacher has been offered the chance to meet the man who abused her, her mother has said.
The mother said social workers made the approach as part of the government restorative justice scheme which gives victims a chance to meet perpetrators.
The girl, then 15, was groomed by married teacher Jeremy Forrest at her school in Eastbourne, East Sussex.
Forrest was jailed for five-and-a-half-years in June 2013.
'Her decision'
The girl's mother, who has written a book under the name Davina Williams, told BBC Radio 5 Live her daughter had not decided whether she should meet Forrest and was still coming to terms with what happened.
"Every victim does have the opportunity, in the right circumstances and the right situations, (to meet the perpetrators) if it's of benefit to the victim and it will allow them to deal with their ordeal," she added.
"She's 17 now and she'll be 18 in June.
"That will be her decision absolutely. If she ever decides to, that will be under no influence from anyone. That's her choice."
Forrest, who is expected to be released from prison this summer, ran away to Bordeaux in France with the girl in September 2012, fearing their sexual relationship was about to be exposed.
They were found and arrested in the French city and he was later convicted of child abduction and admitted sex offence charges.
Mrs Williams said her daughter was in control of whatever happened next.
"When they are adults, you have to allow them to lead their own life. You don't have any control.
"I will always be here. I will always be her mum whatever happens.
"When a child has been groomed, it can take months, it can take years for them to accept that this has happened to them."