Red Cross kit store moved closer to East Midlands Airport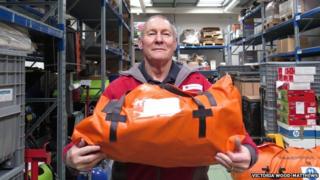 A British Red Cross warehouse near Bristol which has been used for more than a decade to deploy emergency response equipment is being relocated.
The charity is moving the facility to bigger premises in Northamptonshire, nearer to East Midlands Airport which it uses to send kit across the world.
Two members of staff who work at the Warmley site - 129 miles (208km) from the airport - have taken redundancy.
The charity's new facility will be based at Bulwick.
For 12 years, the Warmley warehouse has stored, maintained and shipped out equipment used by emergency response workers across the world.
The kit includes generators, tents, camp beds, mattresses, sleeping bags, hygiene kits, mosquito nets and kitchen kits.
'Helping people'
John Cunningham, 64, from Horsley in Gloucestershire, is one of the two staff leaving. He has worked for the charity for 24 years during which he has undertaken 42 international missions.
"My motivation is helping people. I want to be right in the midst of whatever the problem is," he said.
"A lot of the pictures I've taken over the years are of the kids. They're the most vulnerable members of society but no matter how bad things are, in every country I've been to, for any type of disaster, the kids are able to smile and laugh and take it on the chin.
"I think that's what's kept me going."
Once the warehouse has been emptied, the site will be used for Red Cross services locally, such as first aid training.