Cumbria Police officer cleared of hotel rape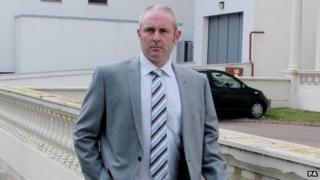 A police officer has been found not guilty of raping a woman in an hotel room while he was at a conference.
Nicholas Doherty from Walney, Barrow-in-Furness, Cumbria, was cleared by a jury at Warwick Crown Court.
The 42-year-old Cumbria Police officer denied two counts of rape, one of attempted rape and a charge of assault by penetration.
He said he had consensual sex with the woman at a hotel in Stratford-upon-Avon, Warwickshire, in 2012.
The Crown alleged Mr Doherty attacked the woman in the early hours after meeting her in a pub.
Mr Doherty told the jury he had a one-night stand with the woman and that everything that had taken place was consensual.