Durham Police issues body cameras to frontline officers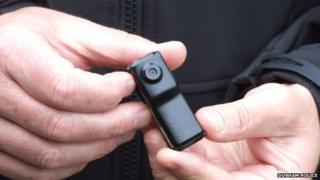 All of Durham's frontline police officers will be issued with body-worn cameras by the end of the month.
The force said it was was one of the first in the UK to equip its officers, including Special Constables, and Community Support Officers, with the thumb-sized devices
A total of 800 are being handed out, allowing wearers to capture evidence as they go about their duties.
The footage can also be used in the event of a prosecution.
Police & Crime Commissioner Ron Hogg said they "improve victim satisfaction and community confidence by giving officers the tools to do their job effectively".
"It has also led to the speedier resolution of complaints against officers which is also a positive," he said.