Navy captain Edwin Tritschler fined for forging documents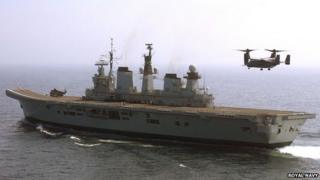 A Royal Navy officer has been fined £5,000 for forging the signature of an officer who complained against him.
Cpt Edwin Tritschler of RNAS Yeovilton was also given a "severe reprimand" and sentenced to a forfeiture of seniority by the court martial at Portsmouth.
Tritschler used computer equipment to copy Lt Cdr Christopher Bovill's signature on complaints documents, the court heard.
He was found guilty of two charges but cleared of a third charge of forgery.
The false documents were designed to show the defendant had provided clear management advice to his junior when they were both serving onboard HMS Illustrious.
'Deliberate deceit'
David Richards, prosecuting, said Tritschler and Lt Cdr Bovill had a "difficult relationship" after the officer joined the aircraft carrier in 2007 having transferred to the navy from the army, where he had been a major.
He explained that Lt Cdr Bovill "struggled" in his position but he found Cpt Tritschler "officious, abrupt and bullying".
The prosecutor said Lt Cdr Bovill, who is currently based at RNAS Culdrose in Cornwall, pursued him through the levels of the complaints process and, when it reached the third level, Cpt Tritschler submitted three documents bearing the signatures.
The signatures were agreed by both sides to have been forged, although the captain was only convicted in relation to two of them.
Mr Richards said: "It was sadly deliberate deceit quite out of character for a man holding the rank Cpt Tritschler does.
"It was Cpt Tritschler who generated these false documents to bring to an end, once and for all, what must have seemed the never-ending complaints process."