Konstandinos Erik Scurfield: Kurds' mass tribute at airport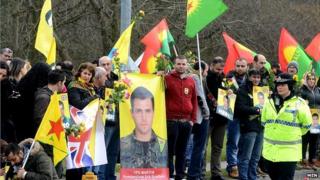 Hundreds of Kurds have honoured an ex-Royal Marine killed fighting Islamic State in Syria at Manchester Airport.
Konstandinos Erik Scurfield, 25, from Barnsley, South Yorkshire, is thought to be the first British person killed fighting IS extremists.
He is said to have gone to Syria because he was "horrified by the atrocities being carried out" there.
His body was flown into the airport as the Kurdistan Democratic Union party (PYD), has a large base in the city.
A large crowd gathered in scenes reminiscent of those at Royal Wootton Bassett in Wiltshire, where hundreds of people regularly greeted the coffins of British service personnel killed in Afghanistan and Iraq.
They had a chance to pay their respects as a private ambulance with his coffin was driven slowly past.
His coffin was handed over to his father and uncle in a ceremony involving hundreds of Syrian Kurds on Saturday.