Volunteers recruited for Broadway station rebuild.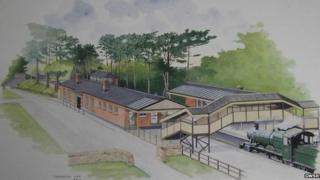 Volunteers are being recruited by steam railway enthusiasts to help rebuild and reopen an old Worcestershire station.
Builders, electricians and former railway workers are asked to go to the Gloucestershire Warwickshire Railway to help with plans to restore Broadway station and to help out in general.
A recruitment fair is being held over the weekend at stations in Toddington and Winchcombe.
The volunteers say they need more help and money to reopen Broadway.
Planning permission has been granted but the volunteers say they need help with building a signal box, a station building, a waiting room, a footbridge and other facilities.
The group has already raised its £500,000 target, but is still appealing for further donations as work continues.
When finished the line, which currently runs between Cheltenham and Laverton, will be 14 miles long.