Rare Joseph Wright 1760s pair of paintings go under hammer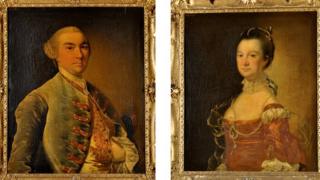 Portraits of a wealthy couple painted in the 18th Century by a famous artist, but never displayed, are to be sold.
The oil paintings of Joseph Sikes and his wife Jane by Derby-based artist, Joseph Wright, have never been on show.
Now they are to be sold by auctioneers and are expected to fetch at least £50,000.
Joseph Wright was famous for painting factory scenes during the Industrial Revolution.
The portrait of Mr Sikes, who lived in Newark, Nottinghamshire, shows him in a turquoise jacket with a lace ruff. He died in 1798.
Mrs Sikes is wearing a string of pearls and pearls in her hair. The portraits will go on sale on 24 March.
---
Joseph Wright 1734-1797
Known as Joseph Wright of Derby, he was the first major English painter to be based outside London
Wright was the first artist to depict industry and scientific experiments of the age
He was noted for his use of chiaroscuro, which emphasises the dramatic contrast of light and dark
One of his most famous works is An Experiment On A Bird In The Air Pump, from 1768, which recreates an experiment by the 17th Century English scientist Robert Boyle
Source: BBC Your Paintings
---