Museum raids: Man admits role in thefts across England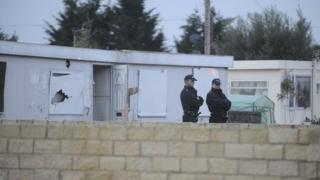 A man has admitted his role in a series of thefts of high-value artefacts from museums and auction houses.
Robert Gilbert Smith, 27, of no fixed address admitted conspiracy to steal at Birmingham Crown Court on Friday.
Eleven others from Cambridgeshire, London, the West Midlands, Essex and Northern Ireland, denied the charge.
The charges relate to thefts of items including Chinese jade and rhino horn in Durham, Norwich, Cambridge, Kent and East Sussex.
A number of the defendants were arrested during a series of co-ordinated raids by officers from 26 forces and the Serious Organised Crime Agency (Soca) in September 2013.
The 40 raids were made in connection with a series of crimes over a four-month period in 2012.
There were two thefts and an attempted theft at Durham University Oriental Museum as well as further incidents at Gorringes Auction House in Lewes, East Sussex; Norwich Castle Museum, the Powell Cotton Museum near Margate, Kent, and the Fitzwilliam Museum in Cambridge, police said.
The men who denied the charge are expected to stand trial on 11 May and 21 September.
They are:
Ashley Alan Dad, 34, of Crowther Road, Wolverhampton
Danny Flynn, 44, Michael Hegarty, 42, Daniel O'Brien, 44 and John O'Brian, 25, all of Orchard Drive, Smithy Fen, Cottenham, Cambridgeshire
Terrence McNamara, 46, of Marquis Street, Belfast
John O'Brien, 67, of Fifth Avenue, Wolverhampton
Richard O'Brien, 30, of Dale Farm, Oak Lane, Billericay, Essex
Paul Pammen, 48, of Alton Gardens, Southend-on-Sea, Essex
Richard Sheridan, 46, of Water Lane, Smithy Fen, Cottenham, Cambridgeshire
Donald Chichong Wong, 55, of Clapham Common South Side, Lambeth, London
Two others, Alan Clarke, 36 and Patrick Clarke, 32, both of Melbourne Road, Newham, London, also charged with conspiracy to steal have not yet entered a plea.