War horse statue at National Memorial Arboretum 'step closer'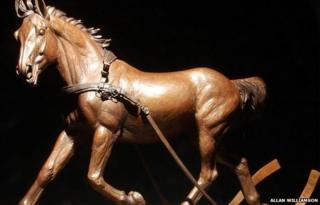 The organiser behind a "war horse" memorial in Staffordshire hopes work on the bronze statue can begin next year.
The statue at the National Memorial Arboretum will "celebrate the strength and loyalty of the horse".
Tracy Francis, of the Free Spirit Horse Memorial Appeal, said she hoped to commission the work by Georgie Welch by the end of 2015.
The £90,000 project aims to see the statue in place by 2018, the centenary of the end of World War One.
Ms Francis said: "During that war they [horses] helped save so many people's lives and it was a time which really demonstrated the trust and companionship between people and horses."
So far about £12,000 has been raised through donations and fundraising.
Ms Francis said people were getting behind the project and fundraising plans included a school raffle and the sale of embroidery work.
Industry apprenticeships
Ms Francis, who runs Gartmore Riding School in Hammerwich, said the memorial would be a wider tribute to horses' contribution in areas such as work, sport and rehabilitation.
The Free Spirit project aims to raise awareness about the importance of horses as well as their role throughout history, she added.
"Horses are so wonderful and can improve people's quality of life and help build people's confidence and self-esteem as well as get them outdoors," she said.
The project has been working with schools across the country and recently ran an art competition in which pupils aged five to 18 created their own horse drawings and paintings.
She hopes the project will eventually lead to a scheme which funds apprenticeships in the equine industry for young people from under-privileged backgrounds.