Playhatch Road in Sonning fund bid fails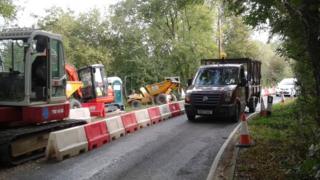 The man in charge of Oxfordshire's highways has expressed disappointment at being turned down for government funding to raise a flood-prone road.
Sonning's B478 Playhatch Road, a main route between Oxfordshire and Berkshire, was damaged when river levels rose in 2014.
David Nimmo Smith, from Oxfordshire County Council, said it had received £12.9m for other projects instead.
But he said it was made clear that the road was the council's priority.
The Department for Transport's Challenge Fund was opened up to councils to bid for money needed for major roads maintenance.
Robert Goodwill, parliamentary under secretary of state at the Department for Transport, said he would look into the reasons for the bid's failure.
'Winners and losers'
He added: "Oxfordshire has received £12.9m for overall long term sustainable improvements to drainage, carriageways and street lighting so they will have some money and maybe some of that can be deployed in that way.
"I promise I'll go have a look and see why it is this particular bid wasn't successful but obviously it's a competition and there's winners and losers and other schemes were judged to be more cost-effective.
"It's about ensuring that the money is spent as well as it can be."
Mr Nimmo Smith said: "I'm really disappointed. We put in bids in an order of preference and at the very top of our list was Playhatch Road.
"Then we had street lighting, and then we had drainage. Somehow we've managed to get numbers two and three but not number one."
The troubled road remains without a long-term fix to prevent it flooding again.
Talks are ongoing between Oxfordshire County Council and the Environment Agency about further preventative works, Mr Nimmo Smith said.