iPad thieves smash through wall at Culcheth school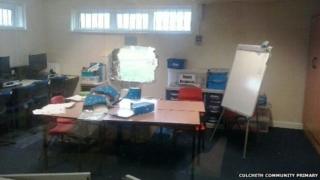 Thieves have smashed through a brick wall at a Cheshire primary school to steal tablet computers.
The raid happened overnight at Culcheth Community Primary School.
The school's head teacher Amanda Dodd said 48 iPad minis were taken in what was the latest in a number of similar thefts of tablets and mobile phones in the area.
Cheshire Constabulary have asked anyone with information about what happened to get in touch.
Three large charging cases for the tablets were also taken in the break-in.
Ms Dodd said she did not know what had been used to smash through the bricks, but that it was an external double-skinned wall so it "must have taken some force".
She said thieves had previously broken in through the roof of the school, but had set off the alarm and left with nothing.