Kieren Brown: Crash teen meets paramedics who saved him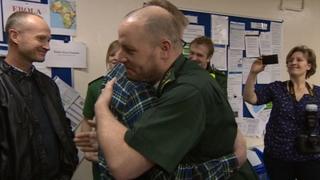 A teenage cyclist has been reunited with the ambulance staff who saved his life when they found him injured by the roadside.
Kieren Brown, then 14, from Bolsover in Derbyshire, was hit by a car on the A617 in Nottinghamshire in April 2013.
He suffered head injuries and major blood loss but an ambulance and paramedic car stopped and kept him alive until he reached hospital.
The ambulance on a non-emergency call had seen the crash and pulled over.
Kieren, who has no memory of the crash, said the reunion was "like putting the jigsaw of what happened together".
"I am back cycling and running and getting on with my life," he said.
"I didn't know there was this many people involved and I'm so grateful they were there when I needed them."
He had been out with his father David and godfather John Barker when he was hit.
He also suffered a collapsed lung, two fractured vertebrae and a broken leg.
Mr Barker said: "David ran in one direction to Kieren shouting 'Call an ambulance! Call an ambulance!'.
"Suddenly this ambulance was there on the opposite side of the road."
By further coincidence a paramedic car travelling in the opposite direction then arrived. This was followed by the air ambulance, which happened to be nearby.
Kieran was brought round from an induced coma five days later, on his 15th birthday.
Paramedic Kevin Topliss happened to be trained in using a new type of self-locking tourniquet, developed for severe limb trauma, like the one Kieren had suffered.
"I think without a doubt it saved his life," he said.
"He was lucky in that a couple of minutes later or earlier without help, Kieren's injuries would have been fatal.
"It was good to see him as we weren't sure how he had done and his recovery has been remarkable."